How to get your team hooked on volunteering
Submitted by

admin

on Fri, 06/20/2014 - 09:53
Audit Manager Jaclyn Waite shares some tips on how MRSB's Chartered Accountant and Bookkeeping & Reporting teams have become almost addicted to fundraising and local community work
Organizing a group of professionals to take part in an after-hours activity can be challenging, especially if it doesn't involve food, or drinks, or sitting on a sunny patio shooting the breeze. Take away all of these things and add matching t-shirts, and you've got a pretty big challenge on your hands! 
If you've decided that volunteer work is something that you, and perhaps another interested colleague, really want to tackle this summer or on an ongoing basis, it can be done. And it's possible to get others involved too. It just takes some organizational skills and a few cheerleaders (the figurative kind! We're all professionals, after all) to pump up the rest of your staff. Luckily at MRSB we've been volunteering and fundraising for quite a few years, and while the art of group volunteering may never be perfected, I think we have some valuable lessons to share.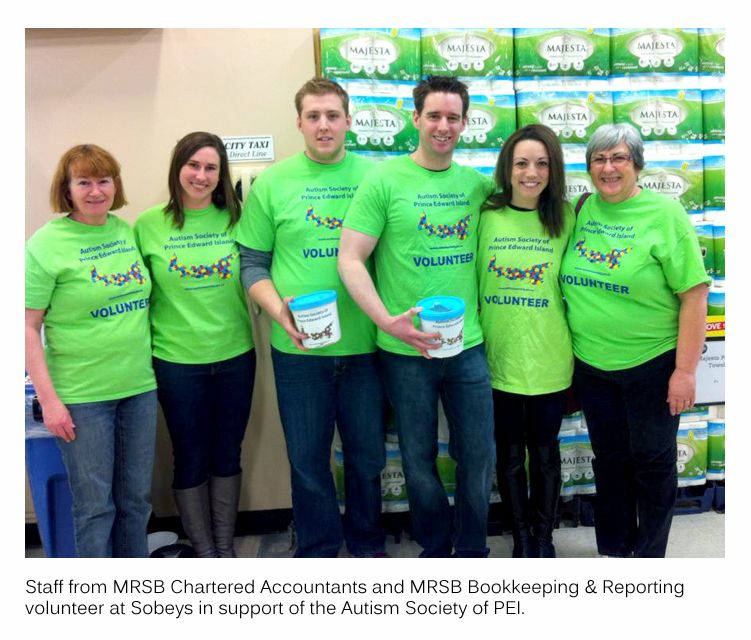 Our Chartered Accountant and Bookkeeping divisions have selected a few charities and not-for-profits to work with this year, but I'll focus on the Autism Society of Prince Edward Island as an example. We've already volunteered at several events, and organized a few of our own activities to raise money for this worthy cause:
Bagging groceries at a local Sobeys store on select weekends
Helped out at a fundraising BBQ at Kent Building Supplies
Sold tickets at the office for a 'summer treats' basket, which we created ourselves
Organized a book sale in our lobby area
Volunteering at an upcoming golf tournament
So, how did we get a group of 18 employees to commit to hours of bagging, selling and flipping hotdogs? There are no hard and fast rules, but here are a few tactics that will put you on the track to success.
1. Plan, plan, plan!
At the beginning of the year, select a small number of events or groups that you want to support, and put it on paper.  Assign one staff member to head each of the events or groups, so the work doesn't end up falling to one person.  If you can, draft a schedule of events and spread them out through the year.  This will ensure that initiatives don't get pushed off "until next month" all year long! 
2. Persevere past 'Not this time'
You may not get a huge turnout at the first two or three volunteer events. That's ok. Even getting a few people out these first few times, and encouraging them to share their positive or funny stories in the break room afterwards, will spur others on. There's no motivation quite like the curiosity factor.
3. Identify your champions
While you will eventually get a group of people on board with your volunteer plans, you will also be able to identify a couple of people who take these initiatives on with gusto, even asking for more responsibility. Embrace this spirit and use these ambassadors to help you stay organized and to gently inspire others to get involved. The positive, go-getter attitudes displayed by your most involved volunteers is priceless in keeping the vibe going throughout the year and beyond.
4. Reflect and celebrate
After an evening of fundraising or an especially involved month, plan a little respite from giving back, and give something to yourselves! Even if it's just a quick beer and a pat on the back, your team will appreciate that you appreciate their efforts. This can also be a great time to reflect on the nitty gritty stuff, like how much money you've brought in so far for xyz organization or how many hours you've put in. Maybe it's because most of us are accountants, but seeing the numbers can be a good boost to the ego!
I can honestly say that the more our team gets involved in our community, the more we seem to want to. I hope that once you've taken on your first couple of volunteer initiatives your team feels the same way. Apart from doing good for the community around you, spending time together after office hours helps everyone get to know each other a little better and strengthens your team. And we all know that a strong team of employees can achieve great things, both inside and outside the office.